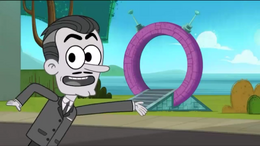 Step Through This Loop
is a song sung by
Wilt Doover
in "
Loopy Loops
".
Let me tell you folks. I've got a vision.
A vision that'll give you more time for fishin'
The perfect existence for the town of Port Doover.
Now, keep your eyes peeled as I go improve her.
Just step through this loop and you'll float in a pool.
No need to work like come kind of fool.
Just step through this loop and you'll never come back.
Your robot replacement will pick up the slack.
A robot for you and for you and for you.
[Dog barks]
Yes, there's a robot for Rover too.
Your robot replacements will scoop and scoop.
Come on everybody, just step on through the loop.
Ad blocker interference detected!
Wikia is a free-to-use site that makes money from advertising. We have a modified experience for viewers using ad blockers

Wikia is not accessible if you've made further modifications. Remove the custom ad blocker rule(s) and the page will load as expected.