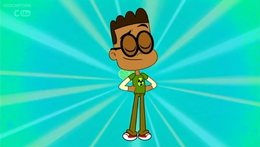 The
Flyder Man Theme Song
is a song sung by the
Glee Club Kids
in the episode "
Theo Fly
".
Who soars through the air, like he just don't care?
Flyder Man!
And who scales that wall to retrieve your ball?
Flyder Man!
Who rolls through to protect your poo?
Flyder Man!
And who bring the pain in a dodgeball game?
Flyder Man!
Yes, he's Flyder Man!
Flyder Man!
Ad blocker interference detected!
Wikia is a free-to-use site that makes money from advertising. We have a modified experience for viewers using ad blockers

Wikia is not accessible if you've made further modifications. Remove the custom ad blocker rule(s) and the page will load as expected.