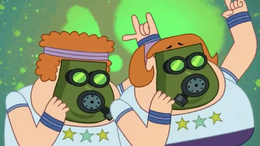 Cirrhosis PSA
is a song sung by
Oliver and Olivia
in "
Loop it Forward
".
Oliver: We got some rhymes to drop.
Olivia: Bout a kid who's crazy sick.
Oliver: And we don't mean that he's dope.
Olivia: No, the bucket he gon' kick.
Oliver: But, before he bites the dust
some crazy stuff will go down.
Olivia: First, his butt'll fall off
then his teeth will turn brown.
Oliver: Cuz he's got a crazy virus.
Olivia: So, you'd better keep away.
Both: Less you want the cirrhosis from your classmate, Jay.
Ad blocker interference detected!
Wikia is a free-to-use site that makes money from advertising. We have a modified experience for viewers using ad blockers

Wikia is not accessible if you've made further modifications. Remove the custom ad blocker rule(s) and the page will load as expected.